Been doing a little wrenching on the car I will be running at the challenge.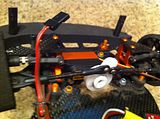 Got my Savox Servo and the new case together and mounted.
Has anybody else been having issues singing into the RCsignup site. I know I logged in and set it up and entered the 13.5 pan car class, but now it will not let me log in. It doesn't recognize the username or the password, and then when I say I forgot my password it doesn't recognize my email address either.